A deep understanding of Scrum roles is critical to implementing Scrum.Many times, this gets widely overlooked when organizations adopt Scrum for the first time. Even before Scrum can be useful for any team, a clear perception of "what is a Scrum Master" is important.
Simply put, a Scrum Master is the coach and facilitator of a Scrum team. The Scrum guide describes Scrum Master as a person chiefly responsible for promoting and supporting Scrum. As rightly stated in the guide, a Scrum Master helps everyone understand the Scrum theory, practices, rules, and values. A converter of "doing Agile" to "being Agile" is what defines a Scrum Master. Essentially, a Scrum Master is a servant leader responsible for facilitating Scrum processes.
That being said, a Scrum Master also helps people outside the Scrum team understand which of their interactions with the Scrum team are useful. This, in turn, helps the Scrum teams maximize the value created by them.
According to Wikipedia, Scrum Master is a facilitator of the team responsible for removing the impediments to deliver the project target. The Scrum Master is not a traditional project manager and acts as a buffer between the team and any distracting influences.
A better perception of "what is a Scrum Master" demands an understanding of "what a Scrum Master is not". If you are in it for the long haul, this will help you become aware of the generic misconceptions around who a scrum master actually is.
Well, a Scrum Master is not a:
In this regard, it is also important to note that a Scrum Master is not an active participant in the daily scrum activities but only a moderator.
So what is it that a scrum master does for real? Let us try to understand.
Being a Scrum Master entails a lot more than the list of priority activities of a Scrum Master you come across nearly everywhere. In addition to moderating the team activities, a Scrum Master has to help teams live by Scrum values.
A typical day in the life of a Scrum Master looks somewhat like below-
We shall discuss the roles and responsibilities of a Scrum Master in further details in the upcoming sections.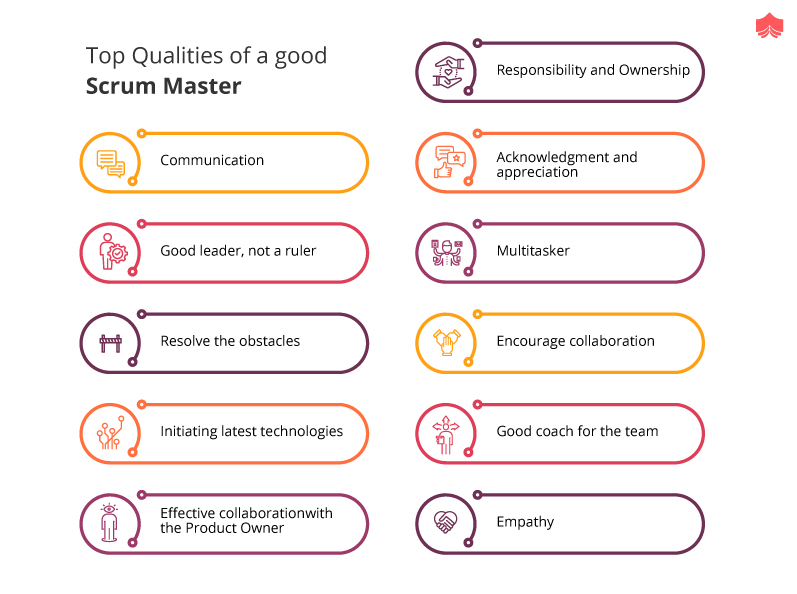 To be an effective Scrum Master, one has to be a Scrum enabler first. If you have had the chance to work with highly successful Scrum Masters, there a few patterns you must have observed. These are nothing but the key attributes seen in Scrum Masters of high-performing teams.
Scrum Masters with these top qualities are found to lead their teams to success-
Effective communication is one of the top skills for any role. A Scrum Master, however, should be adept in two-way communication. (S)he should be a good speaker and listener. An efficient Scrum Master should be able to listen, comprehend, repeat, summarize, energize, observe, write, simplify, critique, suggest, assert, chat, and present with equal ease.
Scrum Master is a representative of the Scrum team. As a Scrum Master, if you are capable of building and gaining trust among the team members, you should be able to represent them in their success or failure.
Genuine leadership entails valuing your colleague's efforts and enabling them to advance their performance. This is one of the top qualities of a Scrum Master, who happens to be a servant leader as well.
A Scrum Master should not follow a command-and-control leadership. Instead, he should adhere to the principles of servant leadership, wherein decisions are made only after discussion with the team members instead of being directly imposed.
As a Scrum Master, you should be able to juggle parallel tasks and manage important scrum events within defined timeframes. Assuming an ideal Scrum team of 6-9 members, you are responsible for managing today's tasks and planning for tomorrow's tasks along with arranging the Scrum events for the team members to resolve their queries, planning for the next Sprint, and release. Multitasking, in fact, is one of the top qualities of a Scrum Master.
The Scrum Master always focuses on keeping the team on track and resolving the obstacles that are blocking their way to deliver a quality product. These obstacles may include unwanted meetings, unwanted procedural complexity, work environment or any other challenge. He/She ensures that the team is away from the distractions that are hindering the project success.
A Scrum Master has to look into the daily activities of the team members. Also, the Scrum Master can share his/her experiences through seminars. conferences, and meetings with the team members. A good Scrum Master should encourage collaboration with the help of planning sessions, daily stand-ups, sprint planning, and sprint review meeting sessions.
A Scrum Master can use automated builds, simple designs, multi-level testing, automated development, and pair programming to reduce time and efforts while developing the project. He/she can also make use of the latest technologies and best practices that can help you in the early completion of the project.
A successful Scrum Master should understand the different phases that his/her team is undergoing and the importance of team building. The Scrum Master coaches the team members by building self-organizing teams, tracking the project, implementing simple methodology rules, and by creating project vision. Other than being a coach to the team to explain Scrum processes clearly and enforcing the practice for Agile, the Scrum Master should have basic technical and project management knowledge.
This is regarded as one of the key qualities of a Scrum Master. An effective Scrum Master should be able to collaborate with the Product Owner. While the role of a PO is to convey the user requirement to the Scrum team and push the team towards it, a Scrum Master facilitates a seamless execution of the processes. Together, the Scrum Master and Product Owner build a strong relationship with the team to provide the best results.
A Scrum Master develops many skills while working with team members. He/She builds his/her skills to develop emotions and to learn what the team members feel. This way, (s)he builds a strong connection with the team and understands their problems while also suggesting effective solutions.
The role of the Scrum Master is not to assign the tasks to the team, it is all about supporting the team members in achieving the project goals. Servant leadership, which is one of the fundamental qualities of a Scrum Master plays a key role here. By serving and encouraging the team in every way possible, a good scrum master always helps the team members attain their full potential. Needless to say, this has a direct positive impact on the business value they create as a team.
A successful Scrum Master always tries to improve the way a team works. The best way to do this is to arrange the retrospective, where each team member identifies what went well and what went wrong in the initial Sprint. The team members learn from the mistakes and this leads to continuous improvement.
A Scrum Master may act as a team leader, but he/she doesn't have the authority of a true manager. Eventually, a Scrum Master has to be cordial with the team members, if he/she wants to influence specific actions.
A Scrum Master need not have end-to-end technical knowledge and domain skills. However, a fundamental understanding of the product, markets, and software development processes, makes it easier for them to address challenges in project delivery.
A scrum master should know when to express his views and should mostly allow the team to be self-organizing. That said, he should be actively listening to the team members' inputs and learning points and guide the team to perform better in subsequent sprints.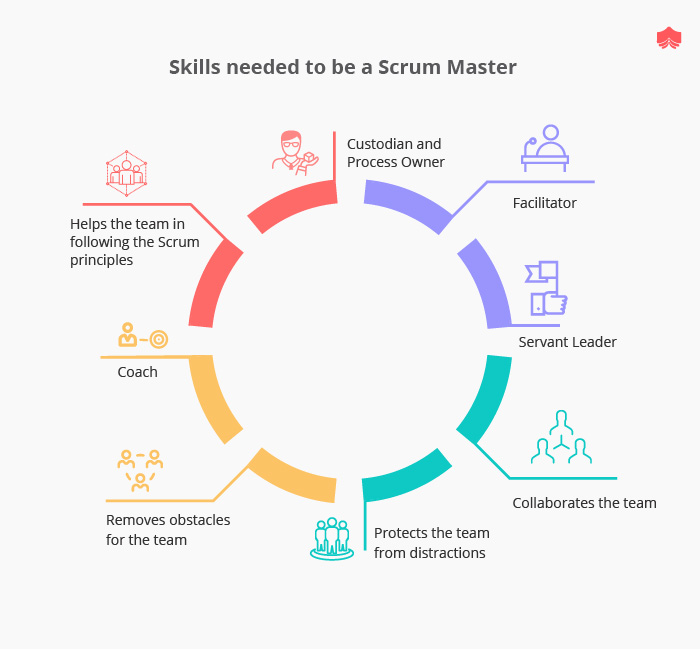 Though the Scrum Master role is complex and challenging, a diverse skill set allows them to become a great Scrum Master. Here are the Scrum Master competencies that help him/her succeed in the project: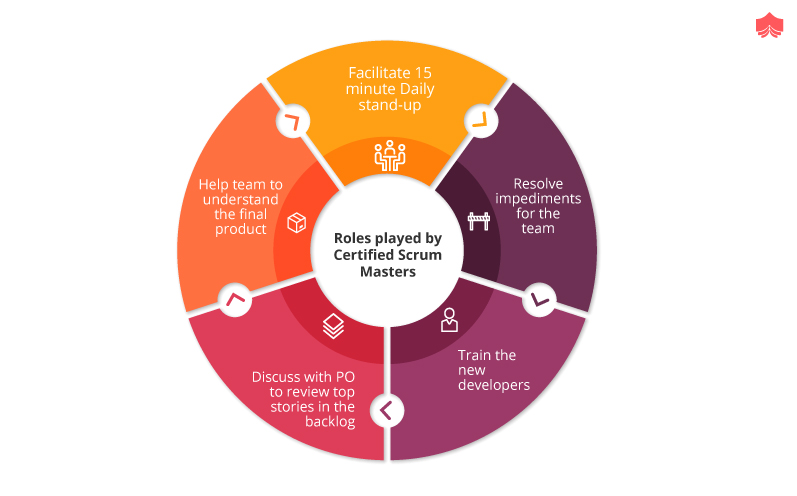 The Scrum Master's role is pivotal to the success of a team. He/she is a process leader who helps the team understand Scrum values, principles, and practices. Some organizations practice rotation of Scrum Master roles among the team members; this is, once again, up to each Scrum Team.
However, the roles of the Scrum Master include:
With Scrum gaining widespread attention in just about every sector, top industry majors like Microsoft, Honeywell, Ericsson, Bank of America, Cox Automotive, KPMG, etc. are focusing on the integration of Scrum into their existing frameworks. This trend has prompted more industries to invest in Agile and Scrum training. Let's see some more benefits of having a certified Scrum Master on a project.
Scrum has become the finest choice of organizations to deliver more value to the customers. In State of Scrum 2018 survey, 85 percent of the respondents say Scrum continues to improve the quality of work life. At the same time, 81% of Scrum Masters who received certification agreed that it has significantly helped improve their practice.
Listed below are the reasons and benefits of having a Scrum Master certification (CSM).
If you have not implemented Scrum before, earning the certification will help you to learn the Scrum skills effectively. With this certification, you can level-up your knowledge with the basics of Scrum and you will be able to:
Nowadays, organizations are required to speed up their product development process to deliver fast according to the changing needs of the customers. This helps organizations to stay viable. Scrum produces in iterations and its self-organizing teams deliver products of maximum value. Due to this reason, a number of companies are shifting to Agile.
A CSM certification will bring more new career opportunities as more companies are migrating to the Agile approach and they need a professional who will guide a team to follow the Scrum approach. Being a certified Scrum Master, your chances of getting hired by the top employers with fair salary are more.
When it comes to working on a complex project, it needs collaboration among the team members. As a certified professional on a team, you can build and reinforce the basic understanding of Scrum to produce a value.
You need to develop an Agile mindset if you have to work with Agile methodologies. As a certified person on a team, you need to start thinking in an Agile way that will avoid differences in opinions and lead to successful projects with better team collaboration.
It is tough for any organization to accept new processes easily as it affects the complete structure of the organization. It affects processes, management, people, and clients. In this regard, you need a knowledgeable person in your team who will make the adoption a smooth process. Being a certified Scrum Master, you will be facilitating the tasks for the team members.
After taking a Certified ScrumMaster certification, an individual will get a chance to be a part of the Scrum experts community of Scrum Alliance. This community offers knowledge in a way to stay updated, find the events, and provide instructions to the certified members.
Once we enter the industries, we often come across the term Project Manager along with the Scrum Master. These two roles are distinct from each other though they contribute to the projects. This creates confusion between the Scrum Master and Project Manager roles when an organization is undergoing an Agile transformation.
A Scrum Master works on the Agile project associated with Scrum project management principles whereas a Project Manager's work is based on the traditional disciplined project management principles. Let's see the differences between a Scrum Master and Project Manager. Also, if you are serving as a Project Manager and willing to become a Scrum Master or vice versa, this information will help you to take a stand on this. Before going further, let's see the roles of the Scrum Master and Project Manager in brief.
Scrum Master responsibilities to the Product Owner (PO)-
Scrum Master responsibilities towards the development team-
The Project Manager is responsible for:
Let's figure out the major differences between a Scrum Master and Project Manager
The role of a Scrum Master may vary from one project to another or one organization to another but the importance of Scrum Master in a team will always be the same. The role of the Scrum Master in general is very challenging. It goes without saying that hiring a Scrum Master is the wisest decision for an organization undergoing a real transition to Agile!
Project manager
Product Owner
A position (it is a role)
Role above the team
Moderates team activities
Helps organize meetings
Keeps scrum processes moving
Keeps the team focused on current sprint
Ensures a power balance among management, Product Owner, and the team
Actively works with the PO
Removes impediments
Helps the team achieve sprint goals
Maintains transparency in processes
Helps improve performance
Ensures quick delivery of the final product
Promotes a constructive feedback culture
Identifies hidden issues and helps prioritize and address them
Helps build self-organizing teams
Encourages teams to learn from experience
Communication
:
Responsibility and Ownership:
Acknowledgment and appreciation:
Good leader, not a ruler
Multitasker:
Resolve the obstacles and keep the team on track:
Encourage collaboration:
Initiating latest technologies:
Good coach for the team:
Effective collaboration with the Product Owner:
Empathy:
A strong understanding of servant leadership and facilitation:
A relentless approach to continuous delivery:
A good relationship with the team:
Product, market, and domain knowledge:
Encourage a self-organizing team:
Knowing the rules of the Scrum
Communicating internally and externally
Reporting the status of the team members
Collecting the team members in the Sprint Planning
Guiding clearly
Resolving the impediments
Efficient facilitation
Implementing collaborative engagement tools and techniques
Forming a good team
Managing the technical debt
Improving team members' activities by providing feedback and motivation
Implemented continuous validated learning
Responsible for making a change
Displaying a servant leadership
Executing the Scrum values
Decide according to Agile methodology
Owing to the team members' responsibilities
Involving every team member in planning
Discussing with the team members
Finding and fixing the cross-team problems
Improving the cross-team technical practices
The Agile framework custodian and process owner for the team.
A facilitator and Servant Leader who never discourages but encourages and expects self-organization from the Agile development team.
Build close collaboration across roles and functions in the organization, works on matters collectively and is not individualistic.
Protect the team from distractions which include both external and internal.
Remove impediments, so the team can focus on the development of work and tasks.
Scrum Master is not typically a manager or lead, but he/she is an influential leader who does not do direct command and control.
Scrum Master is a coach and advisor to the team and discussed issues encountered.
Scrum Master should be equipped with basic technical and project management know-how, this is so that he/she understands the problems and is able to provide proper guidance and advice to the team.
Make customers happy and satisfied
Deliver better quality product in less time
Maintain team collaboration
Lesser defects
Flexible working strategy
Take a quick decision on an issue
Helps the PO in managing the product backlog
Helps the PO to convey the product requirement clearly to the team members
Facilitate Scrum events to the PO
Guiding and coaching the teams to follow Scrum rules
Removes roadblocks that are inhibiting the project's progress
Helps to maintain team dynamics and high-value result
Facilitate the Scrum events and arrange Scrum meetings
Directing the team in Scrum implementation
Mentor the team members who are new to Scrum adoption
Delivering the product according to the project's requirements
Defining the project scope and planning the project activities accordingly
Ensuring that the responsibilities assigned to team members are according to their skills and expertise
Reporting the progress of the project to the stakeholders
Tracking the project performance against the timelines and ensuring an effective project quality
Making sure that the project documentation is proper
Planning the tasks for the team members and ensuring that the team understands their roles in the project
Preparing a project budget and getting it approved from the senior management
Managing the Stakeholders
Monitoring and controlling the risks in the project
Delivering the project on time with the project constraints like scope, the budget, time, and efficient resources
Certified Scrum Master (CSM)®
Advanced-Certified Scrum Master (A-CSM)®
Certified Scrum Professional- Scrum Master (CSP-SM)®
Professional Scrum Master (PSM I, PSM II, PSM III)
Agile Scrum Master (ASM)
Scrum Master Certified (SMC)
SAFe® Scrum Master (SSM)
SAFe® Advanced Scrum Master (SASM)
Agile Certified Practitioner (PMI-ACP)®
Project Management Professional (PMP)®
Certified Associate in Project Management (CAPM)®
Certified Project Manager (IAPM)
CompTIA Project+
Certified Scrum Master (CSM)- Scrum Alliance
Advanced-Certified Scrum Master (A-CSM)- Scrum Alliance
Certified Scrum Professional- Scrum Master (CSP-SM)- Scrum Alliance
Professional Scrum Master (PSM I, PSM II, PSM III)- Scrum.org
Agile Scrum Master (ASM)- EXIN
Scrum Master Certified (SMC)- SCRUMstudy
SAFe® Scrum Master (SSM)- Scaled Agile Inc (SAI)
SAFe® Advanced Scrum Master (SASM)- Scaled Agile Inc (SAI)
Agile Certified Practitioner (PMI-ACP)®- PMI
Project Management Professional (PMP)®- PMI
Certified Associate in Project Management (CAPM)®- PMI
Certified Project Manager (IAPM)- International Association of Project Managers
CompTIA Project+- CompTIA
Research & References of |A&C Accounting And Tax Services
Source